Megasqualus is known only from isolated teeth found in Palaeocene and Eocene sediments of Europe and North America. The teeth are large by squalid standards, according to Cappetta (1987) reaching one cm in width. Otherwise, the teeth are very similar to those of the extant genus - Squalus. Rows of these teeth create a long cutting edge, serving as Compagno (1987) calls it, a clipping function. The living dogfish sharks have a circumglobal distribution, which, depending on species, ranges from tropical to boreal. They are bottom dwellers that can be found from intertidal waters to 900 meters. The primary prey is bony fishes, but their diet includes various invertebrates.
As with the teeth of Squalus, it is the prominent, basally extended apron which "jumps out" when these teeth are first viewed. A laterally elongated, distally direct cusp is accompanied by a convex heel or shoulder. Unlike Squalus, the teeth of Megasqualus orpiensis (WINKLER 1874) have a serrate heel, and a mesial cutting edge that often bears serrations to some extent. (Note the numerous elongated foramina on the root face and strong lingual protuberance.) Ward & Weist (1990) reported these teeth as being found in both Palaeocene Formations of the Chesapeake Bay area - the Brightseat and Aquia. Cvancara & Hoganson (1993) reported this species from the Palaeocene of the Dakotas. The accompanying images reflect specimens from the Aquia (Palaeocene) and Nanjemoy (Eocene) formations.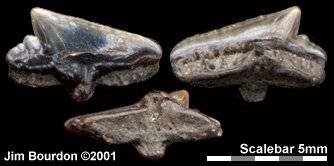 Fig. 1 - Megasqualus orpiensis
Piscataway Mbr, Aquia Formation (Palaeocene), Maryland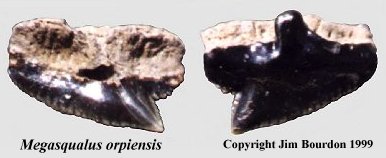 Fig. 2 - Megasqualus orpiensis
4.5 x 7.0 mm
Nanjemoy Formation (Eocene), Virginia
Supplemental Reference
Cvancara, A. & Hoganson, J, 1993. Vertebrates of the Cannonball Formation (Paleocene) in North and South Dakota. Journal of Vertebrate Paleontology, 13(1) pp 1-23.