The largest living shark is Rhincodon typus SMITH, 1829 - the extant whale shark. Represented by a single species, this is a huge (12+ meter) suction filter-feeder which has a circumglobal distribution in warm temperate and tropical waters. Teeth ascribed to Palaeorhincodon have a similar distribution, having been reported from Eocene sediments of Europe, Africa, North America and Asia. The extant genus/species feeds not only on plankton, but also small crustaceans, fishes and squid. In the living species, the mouth is in a terminal position and the dentition, homodont. Compagno (1984) reports that there are up to 300 files of teeth in each jaw.
The teeth of the extinct genus are small (the tooth in the below image is 3 mm in height), has a lingually-directed cusp with lateral cusplets. The root is of typical orectolobid design -- when viewed basally, the lobes form a "V", opening labially, with a central pore. Cappetta (1987) notes there is a pair of margino-lingual foramina. Three species have been attributed to genus: Palaeorhincodon daouii NOUBHANI & CAPPETTA, 1997 [Thanetian], P. dartevellei (ARAMBOURG, 1952) [Ypresian] and P. wardi HERMAN, 1974 [Lutetian].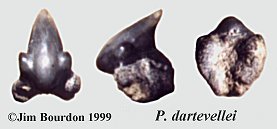 Fig. 1 - Palaeorhincodon dartevellei
hgt = 3.0, wid = 3.0, dep = 3.2 mm
Nanejemoy Formation, Virginia
From the Collection of Michael Folmer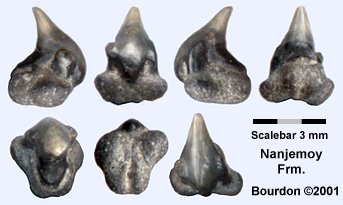 Fig. 2 - Palaeorhincodon dartevellei
hgt = 4.0, wid = 3.0, dep = 3.0 mm
Nanejemoy Formation, Virginia
From the Collection of Daryl Serafin
Some of the distinguishing characteristics of Palaeorhincodon daouii, as pointed out by Noubhani & Cappetta, are that the teeth are slightly smaller and less laterally compressed, bear well developed and divergent cusplets (sometimes two per side) and have a prominent but not very broad apron.

Fig. 3 - Palaeorhincodon daouii
hgt = 3.4, wid = 3.0, dep = 2.6 mm
Nanejemoy Formation, Virginia
From the Collection of Michael Folmer

Fig. 4 - Palaeorhincodon daouii
hgt = 2.5, wid = 2.8, dep = 2.0 mm
Nanejemoy Formation, Virginia
From the Collection of Michael Folmer